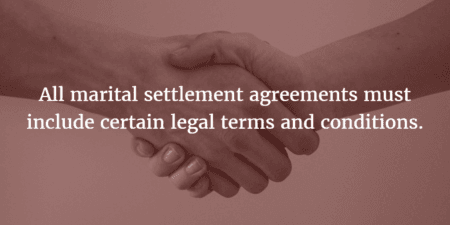 When separating spouses resolve their divorce through negotiation, mediation, or the collaborative process, the final terms of their divorce are set forth in a document known as a marital settlement agreement. It is important for this agreement to be as thorough as possible. When you go through a divorce, the last thing you want is to find out that you overlooked an important detail during the process. The following is an overview of some of the key issues that divorcing spouses will typically need to address in their marital settlement agreement.
What Goes into Marital Settlement Agreements?
Division of Marital Property
While Ohio's divorce laws include general provisions that apply the distribution of spouses' marital assets, spouses have significant flexibility to craft property distributions that are mutually agreeable. Marital settlement agreements should identify the assets that are subject to distribution, a state in which the spouse will take sole ownership of each asset, and include appropriate provisions to address complex issues such as the division of pensions and retirement accounts.
Division of Debts
In addition to dividing their assets, divorcing spouses also need to divvy up their debts. This can present some unique challenges, particularly when debts are in both spouses' names. For example, while divorcing spouses can agree that one spouse will take on sole liability for a joint debt, their marital settlement agreement will need to address the possibility that joint creditors will still look to both spouses in the event of a default.
Ownership of the Family Business
Splitting a family business in a divorce is another complicated issue that will need to be addressed in the spouses' marital settlement agreement, as well as in the company's governing documents. While technically a part of the overall distribution of marital property, sorting out ownership and control of the family business will usually require its own focused attention during the divorce process.
Ownership and Visitation of Pets
Pets are considered property in Ohio, meaning that determining which spouse will own the family pet after the divorce is technically a matter of equitable distribution, not custody. That said, divorcing spouses can include provisions in their marital settlement agreements that specifically address issues such as visitation with pets and liability for pet-related expenses.
Financial Support
Separate from property ownership issues, marital settlement agreements should also include appropriate provisions with regard to spousal support and child support. Like property division, spouses have substantial leeway to negotiate spousal support terms during their divorce. In certain circumstances, it may be appropriate to exclude spousal support altogether. In others, the spousal support factors may weigh in favor of either a rehabilitative or a long-term spousal support award.
In contrast, child support calculations are generally subject to Ohio's statutory child support guidelines. If you and your spouse have children, you can use our calculator to estimate what you can expect with regard to child support in your divorce.
Child Custody and Parenting Rights
Whether resolved in the courtroom or through out-of-court negotiations, in Ohio all child custody determinations need to be made in the best interests of the children involved. As a result, divorcing parents must include custody and visitation provisions in their marital settlement agreements that reflect due consideration of Ohio's "best interests of the child" factors.
Legal Terms and Conditions
Finally, along with provisions that address these types of substantive issues, all marital settlement agreements must include certain legal terms and conditions as well. For example, it is important for a marital settlement agreement to include an acknowledgment that both spouses were represented by independent legal counsel since a lack of adequate representation can provide a defense in certain modification and enforcement proceedings.
Speak with a Cleveland Attorney at Laubacher & Co.
For more information about the issues, you will need to address during your divorce, contact Laubacher & Co. to schedule a free consultation with one of our experienced attorneys. You can call us at (440) 336-8687, or request an appointment online. Your initial consultation is completely confidential, and evening and weekend appointments are available.