If you are employed at the NASA Glenn Research Center or the Lewis Research Center in Cleveland, there is a good chance that your Federal Employees Retirement System (FERS) benefits and thrift savings plan are among the most substantial assets you have accumulated over the course of your career as a public servant. Many NASA and other federal government employees rely heavily on their FERS retirement plans, and many choose to stay in the public sector with the specific goal of securing federal retirement and Social Security eligibility
.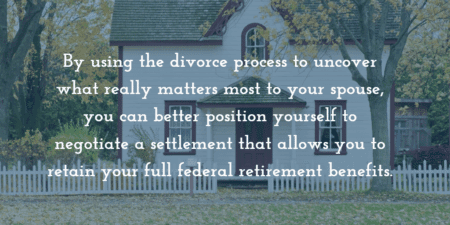 So, what happens now that you are thinking about a divorce? You have worked for years, maybe even decades, to earn the savings you need to retire. But, your spouse's attorney will almost certainly advise him or her to claim a share—because this is what the law allows. If you want to protect your NASA retirement savings during your divorce, what options do you have?
NASA Federal Employees Retirement System (FERS) Benefits in Divorce
Like retirement assets earned in the private sector, federal retirement benefits you earn while you are married are subject to equitable distribution in the event that you get divorced. In Ohio, this is the general rule. This does not necessarily mean that your entire FERS retirement plan will be divided (for example, any savings you accumulated prior to your marriage should be yours to keep). But, in most cases, if you worked for NASA while you were married, you can generally expect some or all of your retirement savings to be included in your marital estate.
As outlined by the U.S. Office of Personnel Management (OPM), FERS and other federal retirement benefits can be distributed during a divorce (subject to state law) as follows:
A FERS annuity can be divided among divorcing spouses.
A FERS employee retirement contribution refund can be divided among divorcing spouses.
Federal employees may be required to cover their children under the Federal Employees Health Benefits Program (FEHBP), and former spouses may be entitled to continue FEHBP coverage.
Federal employees may be required to assign Federal Employees' Group Life Insurance (FEGLI) coverage to former spouses or their children.
Federal employees may be required to name their former spouses and children as benefits under FEGLI.
Federal thrift savings plans can be divided into Ohio divorces as well.
Protecting Your Federal Retirement Benefits During the Divorce Process
However, while your federal retirement benefits may be subject to distribution in your divorce, this does not mean that you are powerless to protect them. In fact, there are a number of different strategies for protecting specific assets in a divorce. While no one strategy can guarantee you your FERS retirement benefits or your thrift savings plan contributions and appreciation, some of the methods that will often produce favorable results include:
1. Pursuing an Amicable Divorce Resolution
If you and your spouse can resolve your differences out of court, this will provide you with the greatest amount of flexibility to negotiate for the property distribution you desire.
2. Proposing Mutually-Beneficial Alternatives
While your spouse may initially be interested in securing a share of your federal benefits, taking tax and other issues into consideration, it may be that you could both benefit from an alternate property distribution.
3. Understanding What Really Matters to Your Spouse
Does your spouse want the security of a federal retirement annuity? Or, is he or she more concerned with "getting half of everything"? Would he or she rather have another marital asset—perhaps the family home? By using the divorce process to uncover what really matters most to your spouse, you can better position yourself to negotiate a settlement that allows you to retain your full federal retirement benefits.
Schedule a Free Initial Divorce Consultation
If you work at the NASA Glenn Research Center, the Lewis Research Center or any other federal government site in the Cleveland, OH area, one of our attorneys would be happy to speak with you about your divorce. To schedule a free, no-obligation consultation, call us at (440) 336-8687 or inquire online today.