If you are preparing to go through a divorce, one of the first steps will be to sit down with an attorney to discuss your situation. From deciding where to file (if your spouse hasn't filed) to prepare for your life after your divorce, there are many, many issues that you will need to start thinking about sooner rather than later. An experienced divorce lawyer will be able to walk you through your options and help make sure you take all of the steps necessary to protect your rights before, during, and after your divorce.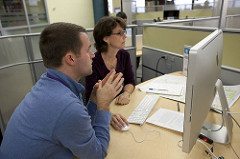 At Laubacher & Co., we offer free initial consultations to all potential clients. Not all family law firms in Cleveland do. Going through a divorce is a process, and you will need to share a significant amount of personal information with your attorney. As a result, it is important to hire someone you trust, and we believe you should have the opportunity to meet with potential attorneys before you have to start paying for their time.
Our Top 3 Tips to Prepare for Your Initial Consultation
To get the most out of your initial consultation, you will want to be prepared. Any divorce attorney you choose should have lots of questions, and they should be willing to answer your questions as well. Here are some tips and resources to prepare for your initial consultation with a divorce attorney in Cleveland, OH:
1. Learn What to Expect During Your Divorce
We've said it before and we'll say it again: Getting divorced isn't an event, it's a process. All divorces take time, and all divorces involve a number of steps that require your attention and careful consideration. If you go into your divorce without establishing reasonable expectations, you may find the process to be much more daunting than necessary.
We have developed a number of resources that you can use to begin to familiarize yourself with what you can expect during your divorce:
2. Consider Your Options for Getting Divorced
In Ohio, you have several options when it comes to the methods for getting divorced. Your spouse will necessarily play a role in choosing the option to be used during your divorce, but you can certainly make the case for the option that makes the most sense for you – especially with an experienced attorney representing you.
One method that is becoming increasingly popular is what is known as the "collaborative divorce." In a collaborative divorce, the spouses and their attorneys work together to resolve any differences without going to court. The process has proven to be successful under a wide variety of circumstances, and it can often spare both spouses much of the time, expense, and stress involved in a traditional contested divorce. Learn more about the collaborative process and the benefits of choosing a collaborative divorce.
3. Think about What You Want to Ask the Attorney.
Finally, you will want to sit down and come up with a list of questions to ask during the consultation.
In addition to any questions, you have about the process ("How long does it take to get divorced in Ohio?", "What can I do to improve my chances of winning custody?", etc.), you should also ask questions about the attorney's background and experience. Remember, you want someone you can trust, and it is important that you feel confident in your choice of legal representation. For some ideas, read: Questions to Ask Before Hiring a Divorce Attorney.
Get a Free Consultation at Laubacher & Co. | Cleveland Divorce Lawyers
If you would like to schedule a free consultation with one of our divorce attorneys, we encourage you to give us a call. We will be happy to sit down with you, and we offer evening and weekend appointments for those who can't come to our offices during business hours. To get started, call (440) 336-8687 or submit a request online. Get a fresh start today.