If you are preparing to go through a divorce, it is critical to make sure that you have a clear understanding of what you can and can't do when it comes to collecting evidence to use against your spouse. While it is acceptable – and even recommended – to make copies of shared account statements, preserve your own texts and emails, and collect family financial records, there are legal limits on the lengths to which you can go to obtain information about your spouse.
T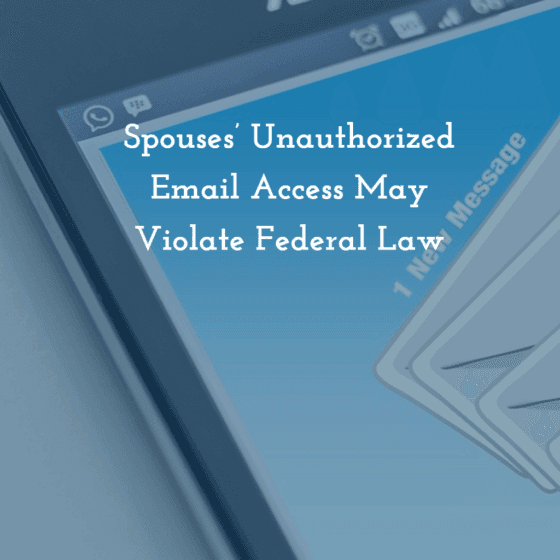 his issue was discussed in a recent federal appellate case the followed a husband's Wiretapping and Electronic Surveillance Act ("Wiretap Act") lawsuit against his wife.
Spouses' Unauthorized Email Access May Violate Federal Law
During the discovery phase of a couple's divorce, the husband discovered that his wife had obtained copies of emails that he had exchanged with other women. The circumstances at hand made clear that the wife intended to use the emails to prove the husband's infidelity. At that time, infidelity was grounds to file for a fault-based divorce in their state (note that Ohio still recognizes fault-based grounds for divorce), and it also constituted a criminal offense.
However, as reflected in the court documents, the husband had never shared the emails with his wife, nor had he authorized her to access his account. As a result, he alleged that she must have obtained the emails by hacking his account and setting it up to automatically forward his emails to her address.
Based on this allegation, and in an effort to prevent the emails from being used against him in his divorce, the husband filed a federal lawsuit claiming that his wife had obtained the emails in violation of the Wiretap Act. While the trial court initially dismissed the husband's claim, its decision was overturned on appeal.
Importantly, the appellate court did not rule that the wife's alleged unauthorized access violated the Wiretap Act. Rather, it merely ruled that the husband could move forward with the allegations. The final outcome of the case remains pending.
Judges Not Happy with Outcome
In fact, if the trial court follows the appellate court's guidance, it appears that the husband's illegal wiretapping claim may ultimately prove unsuccessful. Despite finding themselves compelled to allow the husband's claim to proceed, the appellate justices noted that "Congress probably didn't anticipate [the Wiretap Act's] use as a tactical weapon in a divorce proceeding," and called the lawsuit, "more than a pure waste of judicial resources." One justice also wrote that the husband's lawsuit amounted to "seeking a reward for concealing criminal activity," and that the wife "deserved compensation, such as a more generous settlement in her divorce proceeding."
A Word of Caution for Spouses Seeking to Access Private Accounts
Nonetheless, the court filings suggest that the wife may have technically violated the law; and, regardless of the outcome, the lawsuit has almost certainly drained a significant portion of the couple's marital estate. It is also possible that the wife may have been able to obtain the emails through other non-questionable sources (though of course, we do not know all of the facts and circumstances involved in this particular divorce). So, while the final outcome of the lawsuit will certainly be interesting (and may have implications beyond email, including for social media), the case should serve as a cautionary tale for anyone thinking about surreptitiously accessing password-protected information for purposes of their divorce.
Experienced Ohio Lawyers
With offices in Cleveland, Laubacher & Co. provides divorce representation for spouses throughout Cuyahoga County and the surrounding areas. If you would like to speak with one of our experienced attorneys in confidence, call us 24/7 at (440) 336-8687 or request a free consultation online today.