As 2015 comes to a close and we begin a new year, let's take a look at the biggest trends in marriage and divorce in 2015:
Average Age of Marriage Rises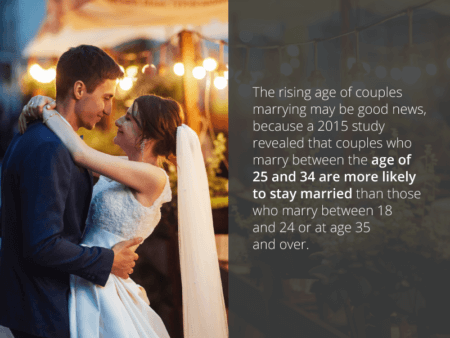 For starters, the average age at which men and women get married is higher than ever before. Whereas men and women were once marrying in their teens, the average age for men is now 29, and for women, 27 years old.
As a matter of fact, only 26% of millennials (age 18-33) are married.
This may be attributed to several factors including increased acceptance of marrying later in life, a focus on education and career goals for both men and women, and an increase in cohabitation before marriage, which may delay marrying.
The rising age of couples marrying may be good news because a 2015 study revealed that couples who marry between the age of 25 and 34 are more likely to stay married than those who marry between 18 and 24 or at age 35 and over. One theory is this is due to the fact that those under 25 aren't fully developed and change drastically between age 18 and 25, and those age 35 and over have become set in their ways and independence and may struggle to compromise their priorities, share their space, etc. with somebody new.
#divorceselfie Hashtag
A positive and uplifting 2015 trend is the #divorceselfie hashtag, in which couples take smiling and thumbs up selfies together following the finalization of their divorce. The #divorceselfie hashtag promotes getting along and treating others with respect throughout the divorce process for the well-being and betterment of themselves and their children.
Fewer People are Marrying
According to the Pew Research Center, 65% of the population was married in 1920, but today 20% of adults age 25 and older have never been married at all. Today's 1 in 5 statistics is a huge change from 1960 when 1 in 10 in the same age bracket had never married. The study also found that more people are satisfied with the single life; just five years ago 61% of single people surveyed hoped to marry in the future but in 2015 the number drop to just over 50%.

Remarriage is Affected by Race and Ethnicity
A 2015 study found that non-Hispanic white men and women are most likely to have married three or more times, while Asian men and women are least likely. Apparently, geographic location also plays are part. Some metro areas in Arizona show nearly a 40% remarriage rate, much higher than the average for the nation which was 20% or less (depending on whether the remarriage was for one or both spouses). In the Midwest and Northeast, the incidence of remarriage is also higher.
Women are Initiating Divorces
66% of divorces are now initiated by women, and the number of women who are significantly happier following their divorce is on the rise as well. This may be attributed to the increasing education level, earning potential, and focus on career among women, which allows them more freedom to choose divorce and still remain independent and successful.

50+ Divorce on the Rise
While the divorce rate has been steadily decreasing for several years, the divorce rate for those over 50 years old continues to rise. As a matter of fact, most divorces in the last twenty years are between couples who are over 50.
Speculation is that as divorce has become more socially acceptable, older couples are more comfortable seeking divorce as a solution to their long-standing marital problems.
Seeking Help
If marriage or divorce is the horizon for you, consider contacting a qualified attorney to discuss the details of your unique personal situation and ensuring your rights are protected throughout the process. Both marriage and divorce require careful planning and legal guidance to ensure the most successful outcome. You can contact the expert family law attorneys for professional guidance or representation at Laubacher & Co. toll-free at (440) 336-8687 or through a simple online form.