Fathers' Rights In Ohio
When determining issues of fathers' rights, child custody, child support, and visitation, the state of Ohio is concerned primarily with the needs of the child. The court will determine what arrangement will work best for the stability and health of the child.  Any decisions on issues of child custody and other matters will follow. As a father, you have the opportunity to present your case in front of the court.  The attorneys at Laubacher & Co will help demonstrate that your presence in the life of your child is important and must be protected.
Joint Custody And Sole Custody

Joint custody – known as shared parenting in Ohio – is where both parents share the responsibility for the upbringing of the child. In a shared parenting agreement, both you and your spouse will decide on all issues for your minor child, including education, medical care, financial issues, and more. Many Ohio courts today prefer to seek out a shared parenting arrangement if at all possible because it is generally believed that the more both parents are involved in the life of the child, the better.
While shared parenting is ideal, there are situations where it is not practical or of benefit to the child. When one parent is not fit for taking care of the child – such as a parent with substance abuse issues, someone who is a repeat criminal offender, or someone who has mental health issues – then the court may determine that sole custody must be granted to the other parent.
Questions About Paternity
In Ohio, it is assumed that the father of the child is the individual married to the mother at the time of birth. If you were not married at the time of birth, your first task should be to establish paternity. At Laubacher & Co., we can help you determine the best way to accomplish this, usually through an Acknowledgment of Paternity Affidavit – if the biological mother will sign it. If not, we can help you get a DNA test to establish your position.
Without establishing paternity, you cannot seek the rights you deserve and access to your child that you want. If there is any question about paternity, or you are worried about establishing paternity, you should contact our firm immediately for advice on how to answer the question of paternity in a way that will be accepted by Ohio courts.
Seeking The Best Possible Outcome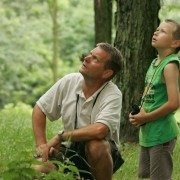 As a father, you want to have as much time with your child as possible. The legal team at Laubacher & Co. can help you seek the best possible outcome from your case. We will examine your situation and then plan a case that will be most likely to get you the results that you want. If possible, we will seek a shared parenting arrangement where you can have equal access to your child and participate fully in his or her upbringing.
However, shared parenting is not always what you want or need. If you believe that you should have sole custody for the benefit of your child, our team can help you prove your position to the court. It is extremely important that if you are a father seeking sole custody, you contact our firm immediately to discuss your case. As much as the court may try to be objective, you may face an uphill battle as a father aiming for sole custody. The more time we have to prepare your case, the better job we can do in getting the outcome you want.
Standing Up For Fathers' Rights
The lawyers at Laubacher & Co. work hard on behalf of our clients to stand up for their rights and protect what is most important t them. Whether you just want equal treatment in seeking shared custody, or you think that getting sole custody is what is best for your children, our team is here to help.
Please contact Laubacher & Co. today for a free initial consultation about your fathers' rights case. We are here to answer your questions and help you with your case.