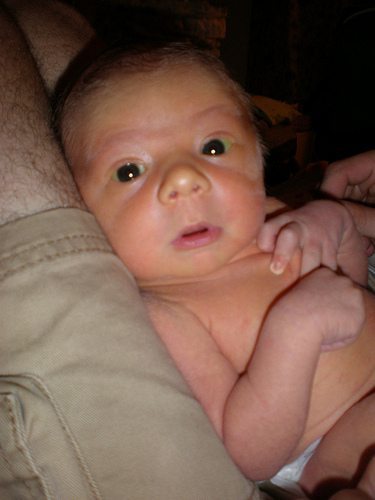 ​
In 2001, Ohio enacted a law to reduce the number of infant deaths due to abandonment in unsafe environments. The law, known as the Safe Haven Law, allows parents to legally abandon a newborn within 72 hours of the child's birth. Under the law, a parent is legally permitted to voluntarily deliver a child to a peace officer, hospital employee, or emergency medical service worker, without the parent expressing intent to return for the child.
In 2009, Ohio Governor Ted Strickland approved an amendment to the law that increases the time period during which a parent may legally abandon a child. Under Ohio's revised Safe Haven Law, which has been in effect since 24 March 2009, parents now have 30 days after the birth of a child to voluntarily relinquish their children. In addition, the Department of Job and Family Services and the Ohio Family and Children First Cabinet Council were required to develop an educational plan for informing at-risk populations who are most likely to voluntarily deliver a child.
In five years since Ohio first enacted the law, 43 children were voluntarily surrendered under the Law, including 11 in 2002, 10 in 2003, 13 in 2004, 3 in 2005, and 6 in 2006. Throughout the United States, according to the National Council for Adoption, more than 1,000 newborns have been surrendered under Safe Haven Laws. Ohio's safe haven law is now more in line with other states that provide for longer surrender periods.
Specifics of Ohio's Safe Haven Law
Under the law, either birth parent may leave a baby up to 30 days after birth with one of the following individuals:
a medical worker in a hospital;
a medical worker at a fire department or other emergency service organization; or
a peace officer at a law enforcement agency.
The law, however, protects only the birth mother or father; it does not protect any other family member. After a child is surrendered, the county department of job and family services is notified immediately upon the surrender of a child, and the child is placed into foster care. If a child is not left at a hospital, the child will be taken to a hospital to be examined by a physician.
The physician will assess the child's health and well-being and will assess for indications that the child has suffered abuse and/or neglect. Importantly, if there are signs of abuse or neglect, the county is required to take all necessary steps to identify and locate the child's parents and begin an assessment and investigation. The hospital will also perform genetic tests for future identification in the event of an alleged parent requesting the return of an infant.
After a child is examined by a physician, the county public children services agency will arrange for temporary emergency care and temporary custody of the child. If temporary custody is granted, the agency will arrange for foster care placement.
Contact a Cleveland Family Law Attorney
If you have any questions regarding adoption law or parental rights in Ohio, a Cleveland family law attorney can answer your questions. The attorneys at Laubacher & Co. have extensive experience providing legal advice on a variety of family law issues, including parental rights and adoption issues. Contact a Cleveland family law attorney today for a free consultation