Annual Ohio Domestic Violence Scholarship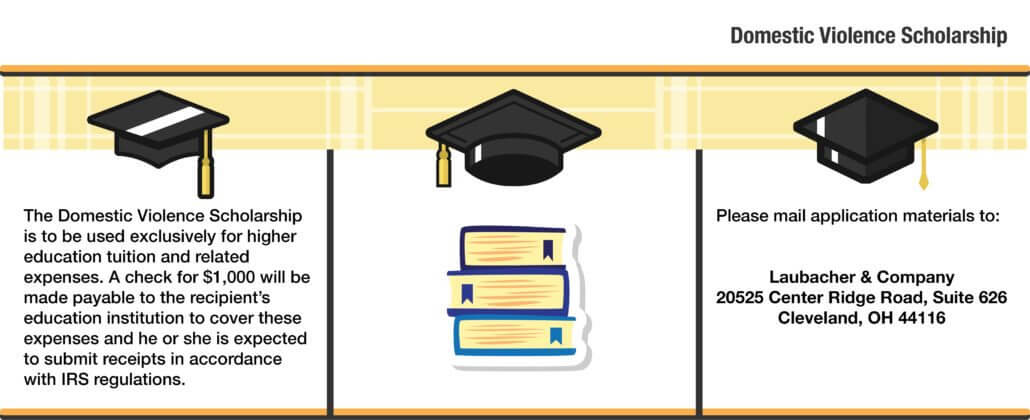 ELIGIBILITY
Applicants must meet the following criteria:
Recipient is currently attending a high school or accredited university or graduate school in the fall of 2018.
Recipient is a legal U.S. resident and resident of Ohio (can be attending school elsewhere though).
Academic achievement as reflected by a cumulative minimum 3.0 GPA in either high school or undergraduate transcripts.
Applicants must submit the following by July 31, 2018:
An official copy of high school and/or undergrad college transcripts for all schools attended.
One-page essay on how domestic violence affected you.
A short (1-3 sentences) statement or piece of advice for people going through a similar situation
A completed Scholarship Application Form
Please mail application materials to:
Laubacher & Company
20525 Center Ridge Road, Suite 626
Cleveland, OH 44116
AWARD
The award recipient shall provide Proof of Legal Residency in U.S. (i.e. birth certificate, passport, permanent resident card, etc.) before payment is made.
The Domestic Violence Scholarship is to be used exclusively for higher education tuition and related expenses. A check for $1,000 will be made payable to the recipient's education institution to cover these expenses and he or she is expected to submit receipts in accordance with IRS regulations.
Domestic Violence Scholarship award recipient will be notified of the selection on or around August 15, 2018.
DOMESTIC VIOLENCE SCHOLARSHIP AWARD HISTORY:
**Thank you for all the Scholarship applications we received for the Domestic Violence Law Firm Scholarship.**
Read more about this scholarship & our recipients in our Law Firm Scholarship Press Release
Resources For Media Professionals:
Domestic Violence Fact Sheet: http://www.ncadv.org/resources/FactSheets.php
Safe Horizon – Get Help: http://www.safehorizon.org/page/domestic-violence-statistics–facts-52.html
National Domestic Violence Hotline: (440) 336-8687
More Domestic Violence information: https://www.laubacherlaw.com/practice-areas/domestic-violence/